Our artificial turf at Paradise Greens was built for Arizona so it can withstand the extremely hot temperatures that we endure here. Read more about our new cooling technology,  how we developed and how it works below.
I want to lay down on it & relax…maybe take a nap!! – Ruben, Paradise Green's customer artificial turf review.
Our vision to produce artificial grass built for Arizona
Since we install artificial turf in Arizona for residential and commercial spaces, we made it our mission to develop a product built for the southwest environment. With this mission in mind, we worked with our USA manufacturer to develop an artificial turf built specifically for Arizona's climate and weather patterns. With the extreme heat as an immediate concern, we conceived a cooling technology. This advanced technology keeps your artificial turf significantly cooler than artificial turf without this cooling tech feature.
We are proud to say that we worked deliberately to develop the best artificial turf for the Arizona market through extensive research and development.  – Charlie Ferer, Founder and CEO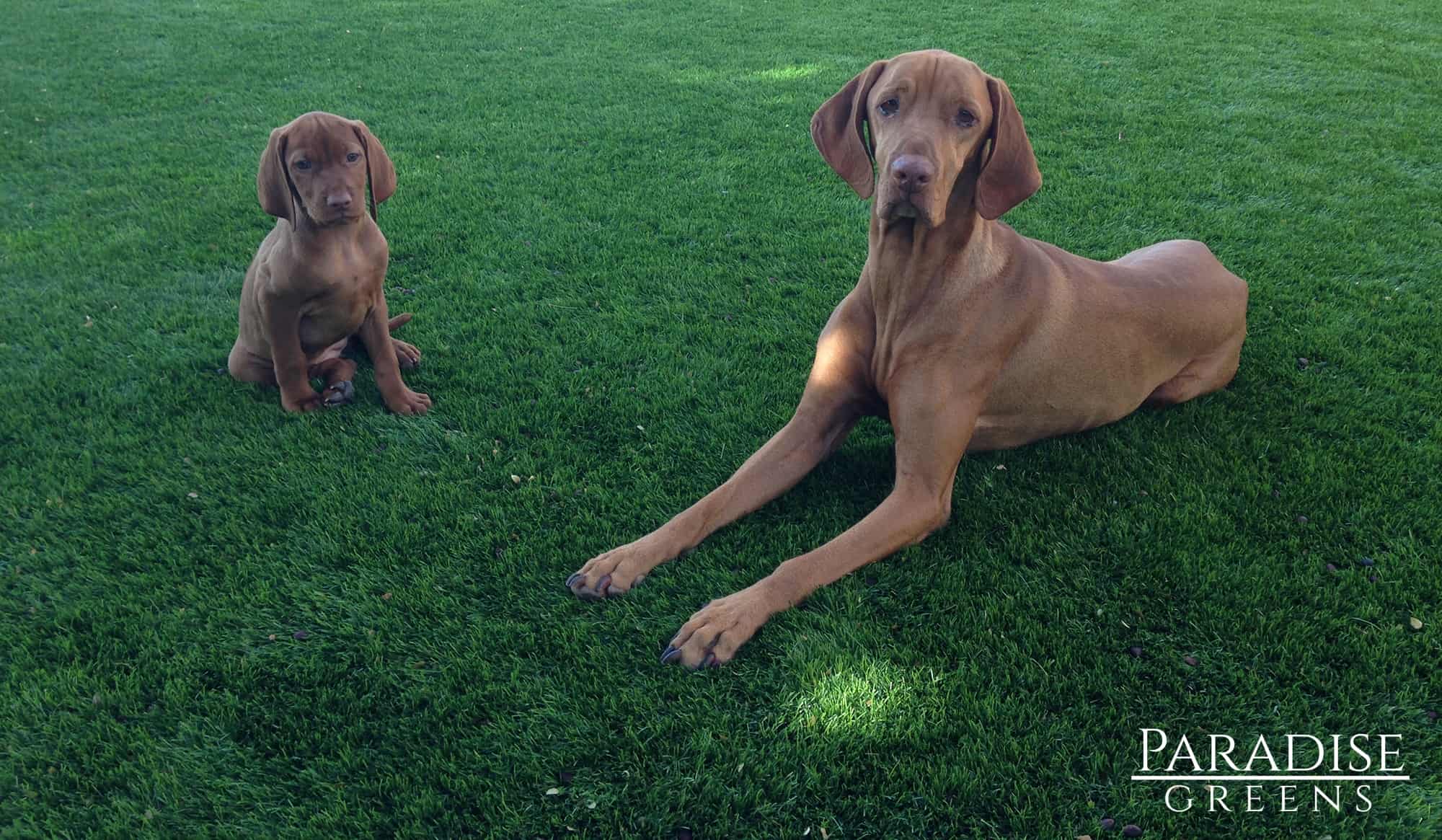 So how does this artificial grass tech work to keep your artificial grass from getting too hot?
Paradise Green's cool-blade technology works to dissipate rather than absorb the Arizona sun's rays making our artificial turf a superior option compared too hard rocks or stone which will retain far more heat than our artificial turf.
Paradise Green's Cool-Blade Tech Features
Built into the artificial grass blade
Keeps your artificial lawn at a comfortable temperature in comparison to turf without the cool-blade tech
Stays cooler than cement and rock would
Dissipates the sun's rays
Made in the USA
Want to learn more about our artificial turf to see if it's the right choice for you?
CALL US for your free, non-obligatory artificial turf estimate to learn more about our turf and its cooling technology. Our sales reps are highly-knowledgeable about artificial turf as they have been doing this for over ten years so feel free to ask them any other questions you might have too!
Call for your FREE artificial turf estimate (480) 586 – 0655
Free Artificial Turf Estimate