Did you know? In Arizona, grass can vary in color depending on the climate.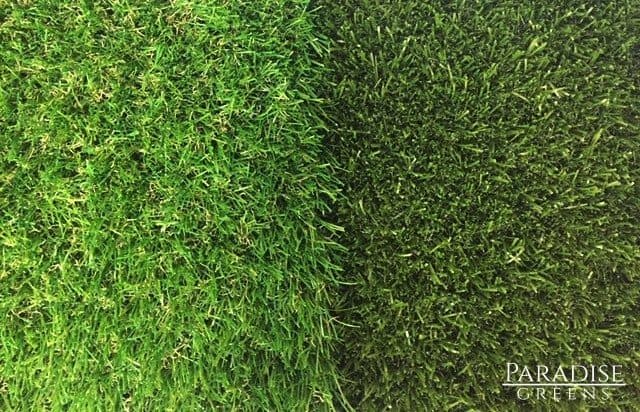 Artificial turf samples from Paradise Greens
Phoenix Artificial Turf Company Offers Color Variations
Light Green and Dark Green Artificial turf
There are different artificial turf colors available. You should choose your artificial turf color based on the climate you live in as different variations of grass grow in different climates.
Phoenix, Arizona grass is lighter than grass in Northern Arizona. Grass up north is usually a deeper green due to the cooler weather patterns.
If your artificial turf matches surrounding real grass lawns, your artificial grass will easily blend in. No one would be able to tell the difference between your artificial turf lawn and a real grass lawn!
Paradise Greens offers both artificial turf color options including a bright, spring green color and a rich, deep green hue.
Both artificial turf products look identical to grass that naturally grows in the varying Arizona climates. What sets this artificial turf apart is that it even comes with some dead blades so that it mimics slight impurities of a real grass lawn.
Contact us for your free artificial turf estimate. Paradise Greens serves Phoenix, Arizona and surrounding cities. The artificial turf company will come to your location to show you artificial turf samples. Feel free to put the artificial turf sample right next to real grass so that you can see the magic for yourself!
Free Artificial Turf Estimate