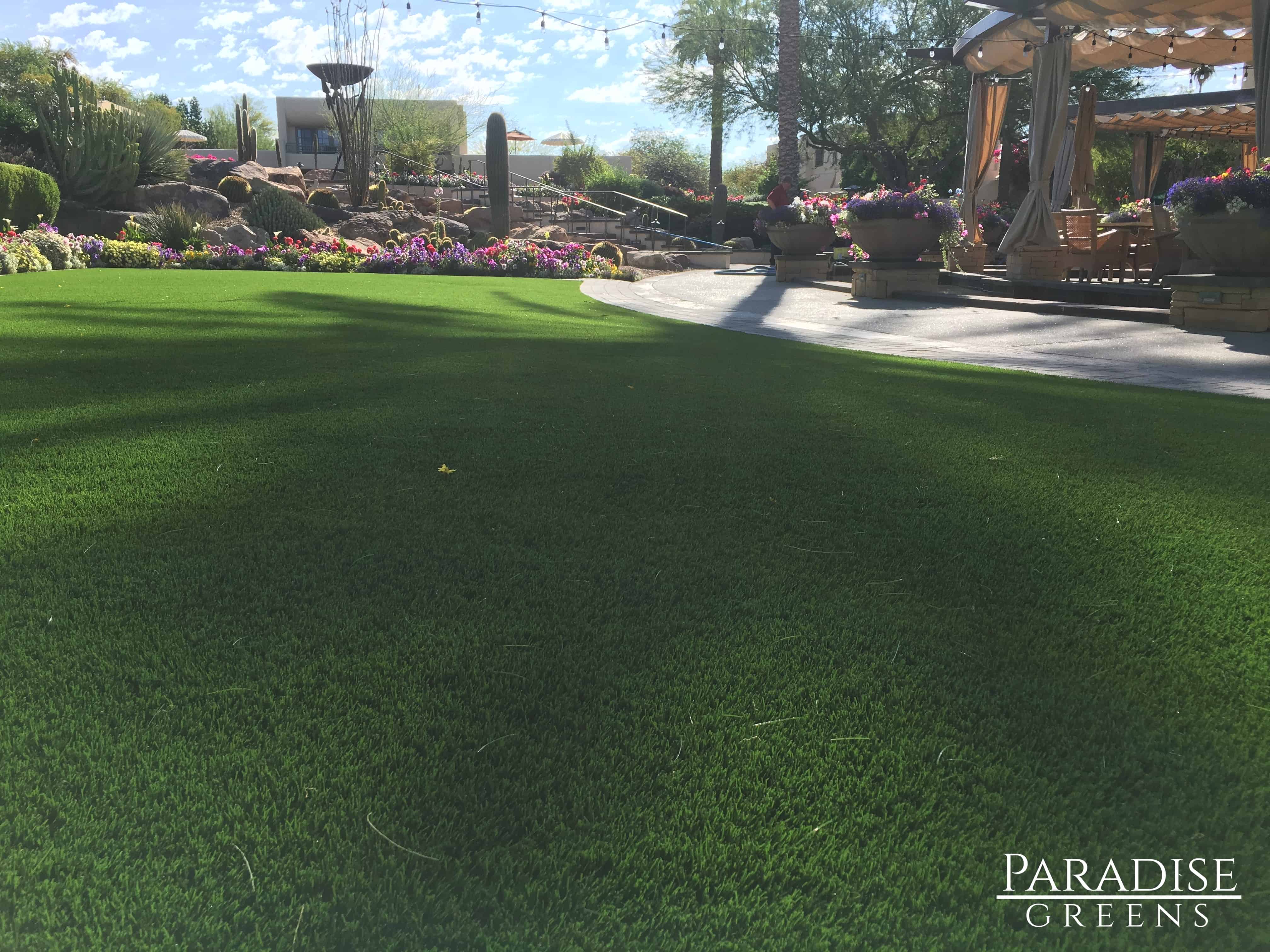 Grass is highly desired for outdoor weddings in Phoenix, Arizona. Here is why an artificial turf wedding venue is bride-approved, perfection:
Whites Stay White With No Mud, No Mess Artificial Turf.
One of the biggest concerns for a bride on her wedding day is that her white shoes and white dress stays white. No spills, no falls and no stains. For an outside wedding, this concern is heightened.
Phoenix, Arizona's weather patterns in particular will leave any bride praying to the rain gods. Arizona's monsoon season in the late summer brings extremely heavy rains and mud – this mixture is the worst enemy of a bride's sparkling white attire.
During Phoenix's drier and hotter months, dirt turns to dust. These dirt particles, although small, can easily turn a white dress beige when the wind kicks up. This is why artificial turf is a bride's best friend for an Arizona outdoor wedding. A simple canopy can shield minor drizzle or sun and their would be no worries about any mud or dust kicking up from below.
No Sinking Heels on Durable and Sturdy Artificial Turf
The bride, and her bridesmaids included, want to look their best on this special day. Sinking heels on real grass is not a good look. This leads to the bridal party wobbling, not walking gracefully, on their way to the alter.
This is another reason why artificial turf is a good idea. But also the right turf…
On Her Wedding Day, She Deserves The Best – Including a Quality Artificial Lawn to Wed On.
An outdoor wedding with real grass is a desirable venue in Phoenix, Arizona. But be sure the artificial turf is top quality.  It's really hard to tell the difference between our artificial grass and real grass. The reason is our grass comes with anti-glare technology which reduces the plastic-looking sheen some artificial grass has.
So if you are looking for artificial turf that suits a bride's high standards, call Paradise Greens for a free artificial turf estimate! We service Phoenix, arizona and surrounding cities. (480) 586 – 0655
Free Artificial Turf Estimate