Phoenix, Arizona –- August 1st, 2016 – Metropolitan Arts Institute in Phoenix, Arizona just installed a new artificial lawn to keep the school looking its best for the first day of school and also to ensure the school's future cost savings.
Read why this Phoenix school decided to install artificial turf.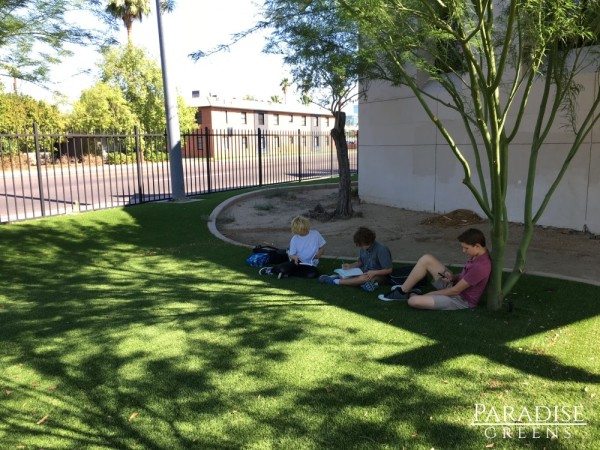 Renovations like this are imperative to keep the school looking great and having the students, grade 7 – 12, feeling excited to learn.
A dead, brown lawn is not something students look forward to seeing, relaxing on, or studying on for that matter.
The school also has more improvements planned to ensure a great environment for the students to learn in.
"We will also be installing a new roof this year and will continue to make improvements to the school as the budget allows" says Lisa Starry, Associate Head of Metropolitan Arts Institute.
Among all the improvements planned, Starry chose to install artificial turf as a priority due to  the long-term cost savings that come with an artificial lawn opposed to a real grass lawn.
Now, the only thing greener than the grass at Metro Arts Institute is the school's wallet.
A significant cost savings would be with the school's water bill as SRP reports that for the average Arizona household 70% of a water bill is spent on outdoors – this includes watering a lawn.
Along with the school's new water bill savings, the school would be saving money in lawn care and maintenance too.
"We chose artificial turf because it's easier to maintain and doesn't go through season changes," says Starry.
School just started August 1st and there was enough to worry about at the first few weeks of school; costly fall seeding was the last thing Starry would want on her agenda.
Also, artificial turf was the obvious choice as the school needed something durable to withstand the school's heavy foot traffic.
"We chose Paradise Greens because of the quality of their turf and install too," says Starry.
"The school is at capacity this year with 250 students;" says Starry, "we needed a landscaping option that would could withstand the student foot traffic so we chose a durable, quality artificial turf"
The charter school is currently giving tours of the school for 2017 and 2018 enrollment. As the school fills up quickly, Starry recommends to schedule your tour sooner than later.
About Metropolitan Arts Institute in Phoenix, Arizona
"Metro Arts offers a broad academic curriculum including humanities, mathematics, science, and foreign language. The curriculum is structured to establish connections across disciplines, and encourage freedom of purposeful expression. The curriculum both challenges and supports students as they develop their own strengths." states the Arizona school's website.
About Paradise Greens & Turf Co. in Scottsdale, Arizona
Paradise Greens is an award winning artificial turf company specializing in the conceptualization of artificial turf landscaping designs and the installation of artificial turf. The artificial turf company provides services for residential and commercial applications throughout the Arizona Southwest. Sign up for your free artificial turf estimate from Paradise Greens for your custom artificial turf project.
Free Artificial Turf Estimate