Artificial grass is an extremely popular landscaping choice in Arizona. This is because artificial grass is hassle free, needs zero water and stays green year round! Also, an artificial lawn means, no more spring seeding, fall seeding or outlandish water bills. Be inspired, and feel a sense of relaxation beginning to kick in, as you enjoy these artificial grass landscaping design ideas below for your residential or commercial landscaping designs. 
Artificial grass design ideas | pool side 
Who wouldn't agree that along with a pool, a green lawn is a necessity in order to fully complete your oasis in the desert! This is why artificial grass, which promises a lush green lawn year round, is a pool side must! Also say goodbye to mowing the lawn on your weekends and switch it out for sipping margarita's poolside. Now that's what we call Paradise! Install artificial turf at your home or a commercial space like a hotel or resort.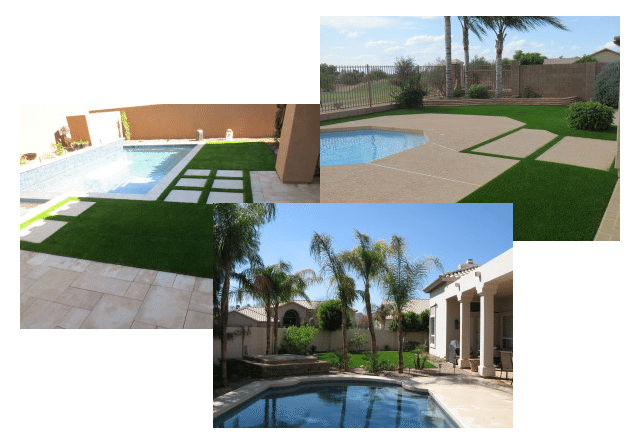 Artificial grass design ideas | seating area
Artificial grass is a splendid choice for your backyard seating area for you and your friends or family to enjoy (without the mud on their shoes or toes)!  Enjoy brunch or have afternoon tea while enjoying the beauty of the outdoors and awesome Arizona weather!  Also, the party can last well in to the wee hours of the night and will never end suddenly – like when you used to have a real lawn and guests would frantically dart off the grass at the moment your sprinklers surprise them at the scheduled hour- no sprinklers required here! With a new artificial lawn, your backyard could easily become the next trending hang out spot! For commercial spaces, imagine the boost in business for your restaurant or bar!

Artificial grass design ideas | interesting spaces
Artificial grass requires no water which makes it flexible to install almost anywhere. Your artificial grass install does not have to be limited to the ground or just covering dirt. Imagine covering a wall, your patio or even your rooftop!  These ideas are a great way to bring the feeling of fresh green grass into any space.  So if you are interested in commercial or residential artificial turf, do not hesitate to share your out-of-the box artificial turf ideas – you may be surprised to find that it can be done!

Artificial grass design ideas | indoors
Artificial grass can bring a sense of the outdoors inside without all the mud and dirt that come with it!  Imagine the possibilities of using artificial grass to dress up the indoors of both your residential and commercial spaces. Install artificial grass inside to liven up a stuffy conference room, to freshen up your living room or maybe to spruce up a game room!

Artificial grass design ideas | intricate designs
If you plan to include intricate designs in your landscaping project like: checkerboard patterns, repeating lines or geometric shapes, artificial grass is the best choice.  Artificial grass can be cut to fit the most intricate shapes! Real grass, on the other hand, is hard to care for and hard to mow in small spaces. Your design may look overgrown or your grass may turn brown which may tarnish the design you envisioned. If you want to make the most impact with the least amount of care and maintenance, go with an artificial lawn. Your design will last up to 15 years and can look just as good as the first day you installed it!

Artificial grass design ideas | pet runs
Pets love artificial grass, especially if the other option is the popular Arizona desert landscaping composed of mostly rock, dirt – none of these things your pup would want to rub up against. Some pets may even refuse to go to the bathroom on these barren rocky landscapes.  Or if you have real grass, then you have to deal with the dog tracking in grass blades with wet and dirty paws from sprinklers and you will have to reseed during the spring and fall. Instead, install an artificial grass pet run for your Arizona dog and it will be their little piece of doggy heaven right in your backyard! It will be a space for your dog to play mud free and also a refreshing place for them to use the bathroom as artificial turf can have odor-neutralizing pellets added.  Design a small pet run for your condo or even a large pet run spanning the whole yard for your dog to run all day on! Artificial grass is a great choice for commercial spaces too like doggy day cares, dog parks and pet hospitals!
Artificial grass design ideas | sport areas
If you want to make your backyard a place where people will come together and have fun, an artificial turf sports area might be a great idea! Have a custom putting green installed in an interesting shape or just cover a large area with artificial turf for an entire sports field. You, your family and friends can enjoy the space years to come and you can avoid any mud or dirt being tracked into the house. Have a family golf team, soccer league or baseball team – family reunions will be a blast! If you are concerned about it being too hot to play sports in the Arizona heat, your artificial turf can be installed indoors too!

Artificial grass design ideas | kids play area
Don't you wish your kids would play outside more? Maybe they would with a new artificial lawn! An artificial grass play area offers a soft, lush green area for your kids to play on – much better than playing on rock and dirt. Duck, duck goose won't be a pain in the bottom any more!  Your kids can play harder and fall even softer. Also, along with being tear free, artificial grass is sniffle and cough free too since artificial grass is naturally allergy and pesticide free! The best part is, you never have to yell at your kids again for playing in the mud because there won't be any!  Have artificial turf installed at your home for your kids to play or for commercial spaces like a preschool, day care or kindergarten.

Call  (480) 586-0655 for an artificial lawn estimate 
Free Artificial Turf Estimate