2015 was a busy one for us! Our customers can tell you how much they enjoy the benefits of installing artificial grass, like significantly lower water bills and virtually no more lawn maintenance. Our customers' neighbors can tell you that the grass really is greener on the other side of the fence!
Let's take a look at some of the exciting things that we did in 2015 and get inspired to make 2016 an even more brilliant, vibrant year with artificial grass!
We were proud to be recognized in our community this year. Scottsdale Living Magazine named Paradise Greens and Turf Company the "Best Landscape Putting Green Designer" in their "Best of Scottsdale 2015."
This particular installation project was one of the larger ones we've ever done. Our professional, amply experienced installation crews completely made over this landscape from start to finish. This 12,000 square foot space was transformed into a lush, vibrant paradise after removing the natural sod that previously served as the foundation of this landscape. Artificial grass from Paradise Greens and Turf transforms an outdoor space!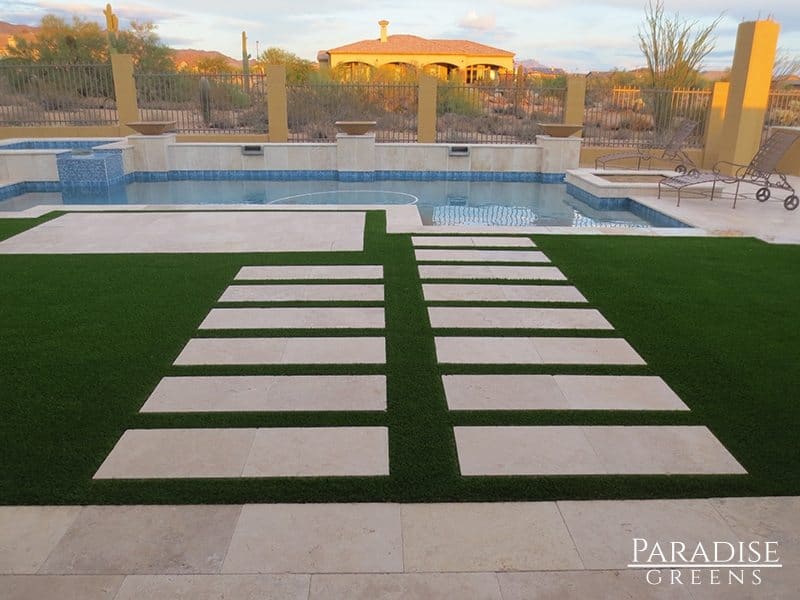 We took this backyard from dry and dull to dazzling. Even this small area that was replaced with our vibrant artificial grass really makes the outdoor space feel more like your private oasis than a simple yard.
This is one of the lawns that we transformed into an avid golfer's putting practice paradise! We help lots of folks improve their golf scores by giving them a convenient putting green, but have plenty of experience putting in athletic fields and practice areas of any size for commercial or residential use!
Make 2016 a beautifully green year. Give us a call if you want to save money, better utilize natural resources, and enjoy having the most beautiful lawn on the street!